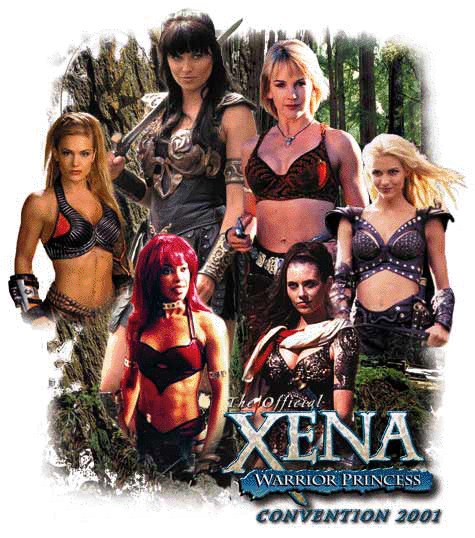 Well if you are checking out this page you are curious to see what is happening with with us at the Xena Convention in Pasadena CA. Well the object of this page is to let you see some pictures of the day and a blurb from us the attendees. Hopefully I will be able to get everything updated everyday. I plan on starting the updates from May 2 until May 8. The last update will be from New York and will be my closing statements about the Convention and what went on.
Well it is May 1 and at the time of this update I am at the 24 hour till take off. The only thing that worries me is that I don't forget to bring something important. More to come.....
May 2: Okay my first flight left on time and I was off and running I arrived safely along with my luggage at 3:00 pacific time. The short shuttle bus ride to the hotel was uneventful but the look of the hotel was quite nice and looked way to classy for the likes of our party of convention goers. I got up to the room and was greeted by Ang and Karen Carrie was snoozing on one of the beds. The rest of the day was just talking and watching some Hockey and getting some food. Not much to say. We were all a little tired from the long trip we had just took.
No pictures yet but some will be posted on the next update. Hang tight and check back again for the next update. Stephen
May 3: Today started on a good note I did manage to get to the 'Fitness Center' to work out. Then from there we managed to get some breakfast from a local bakery. We then took in the sights of Old Town in Pasadena. Along our journey we managed to get a some liquid refreshments and Carrie managed to have one of the scariest little guys check her out like she was a piece of meat. The really funny thing to me was that I was walking right next to Carrie at the time. Well after hanging in the room and for several hours relaxing we managed to make our way back out to get something to eat. We went to Hooters and had some beers and some good food. then from there we went to the Pasadena convention center for our tickets. We managed to get our tickets and checked out some of the venders. There was some great items for sale and the prices were not to bad. Also some of the other participants were bigger then me and some looked like stalker serial killer types. Karen was the most stunned by the women who attended. She just did not believe Angie when she described the horrors of the attendees.
Well the 4th is the the start of the convention and there should be some pics.
May 4: Well the first day of the convention had finally arrived. It was everything I thought it would be. Freaky people dressed like characters from the shows. Scary people just attending. Hudson Leick was amazing. She wore a red leather vinyl dress that was incredible. Bruce Campbell was funny and had crowd laughing. The evening went on with us meeting Carries Beta readers. They are definitely a unique bunch of individuals with very different lives all coming together for an event and getting together for a dinner and sharing experiences. it was definitely a great way to cap off a good day.
Well more to come tomorrow. Stephen
May 5: Well it was another cool ass day at the conventions and it seemed like the freaks were starting to show up. We got to the convention and Carrie got her 2 autographs of Bruce Campbell. We then sat down and listen to Adrienne Wilkinson and William Gregory Lee talk for about an 40 minutes answer questions and what not. Then we bailed so we would miss Tim(I am glad Eli is dead) Omundson. We went to get some food and some drinks and planned to return in time for the final 3 speakers of the day. On our way back to the convention center we passed a fountain. Needless to say one thing led to another and Carrie was running through the fountain with out her pants on. Upon exiting she slid along the ground causing everyone that saw it to laugh quite hard. We did manage to make it to the convention area on time. They were actually auctioning off the new style chakram autographed by Lucy and it was an actual prop from the series. The winning bid was 40 thousand dollars. Well Claire Stansfield was the first of the 3 speakers that we were waiting for today. She opened up and was real funny and talked about playing Alti. She was great. Then Alexandra Tydings was next and she was just a ball of energy on stage. She also was very funny and answered a lot of questions. Then the last speaker was Ted Raimi. He came out did a few prat falls to get the crowd going. It was just a big Joxer lovefest after that. Ted was very funny and did some real cool stuff with the crowd.
More to come Stephen
May 6: Well the last day of the convention was cool. I finally got to meet Hudson Alexandra and Ted in person. Naturally I was cool and smooth talking to these gorgeous women. Okay maybe in my dreams I was. With Alexandra I was able to get my name out and sit and stare. I did manage to get a photo of her signing the picture for me. Then Hudson said hello as I handed her the picture to sign. At the moment she was sitting on the table looking all too sexy. I managed to squeak out 'How you doin'. Not like Joey but more like the Bud light guys. Since I am from New York and that is how New Yorkers tend to be. I did manage to remain calm and made it out of there with some sort of my dignity intact. Well while I was waiting on line to get the signatures I did get some more pictures of Claire who was nearly bursting out of her top. It was definitely a welcomed sight. Then finally the convention got to the two biggest stars, Lucy and Renee. They spent about two hours answering questions that were sent in. Some questions were good and others were lame. Yet seeing Lucy and Renee out there answering and having fun was great. Lucy was wearing her outfit from the Spiderman movie. Renee looked great even though she was five months pregnant. I don't have any good picture from Lucy and Renee appearance.
Well one more day left here in California.
May 7: Well for the last day we rented a car and made our way to Universal City. Then from there we cruised Sunset blvd. Then we headed to the Santa Monica pier. Then we headed to downtown LA for some dinner at the Hard Rock Cafe. The atmosphere was heavily scented with woo. From there we made our way back to Pasadena. We dropped off the car and headed back to the hotel to pack for the plane ride home tomorrow. None of us are looking forward to going home. Well I got to pack.
May 8: Well it is all over and I am home. I got home at about 11:30pm EST after starting my journey back at 9:49am PST. The day seemed to last forever but I made it home. I have to admit that the time in California was great the weather was fantastic. Old town Pasadena is really nice but the people are way to friendly and courteous. I thought my head was going to explode. People waited at cross walks, you did not have to dodge cars making turns. I was lost and with out the constant need to survive. It was like the challenge of survival on the streets has been taken away and everyone just moves about with out the fear of being run down by some driving lunatic. Well I know this is the last update of the convention and if you are reading this you really have no life. Cause really this was a pathetic attempt at keeping a journal of the events that happened. Oh and Carrie hopefully you have your pic back.
Hugs and Kisses
and Acid filled Lollipops
Stephen